Charmmud Green Pearl Skin Care Disposable Natural Mineral Mud Pack 9g 10ea/1box
 Charmmud Green Pearl Skin Care Disposable Natural Mud Pack - 10ea/1box Nature-made Dermatology Natural Mineral clod Green Pearl Mud Pack Masque 99% of the formulated concentrate of the natural mud!   Features A blast of sebum! Visible effect Natural mineral clod The power of special osmotic pressure 99% of...

Charmmud
Green Pearl Skin Care Disposable Natural Mud Pack
- 10ea/1box
Nature-made Dermatology Natural Mineral clod Green Pearl Mud Pack Masque 99%
of the formulated concentrate of the natural mud!
Features
A blast of sebum! Visible effect
Natural mineral clod
The power of special osmotic pressure
99% of natural ingredients all certain ingredients
Which part to use
Facial use: with 12-time use, you can maintain an every-day clean, elastic skin condition
Whole body and partial use: it is very effective for the itching of dry skin, and the skin is clean, soft, and smooth.
A temporary phenomenon of unique natural mud Due to a temporary phenomenon
of natural mud, those who have a bad skin condition can face more aggressive skin,
but if you use it regularly, you may reduce the use of frequency after purifying your skin and pores.
Specs
Capacity: 9g(ea)*10packs/1box
Manufacturer: Charmmud
The origin of country: South Korea
-
Refunds and cancellations can be made at any time prior to delivery.
(Refunds are not possible after delivery. Please inform us of refunds in advance)
After delivery, if there is an error in the delivery address or the product is defective, returns and refunds are possible.
Expected Delivery Time
(Holidays are not included)
Customers from Argentina and Chile must fill in their TAX/TAD IDs on Address Line 2
and customers from Brazil must fill in their CPFs on Address Line 2. 
Customers are fully responsible for any kinds of custom related issues,
such as Custom Taxes, Import Taxes, Value added Taxes, etc. 
Customers are required to pay charges such as customs fee,service fee, administration fee,
warehousing fee whatsoever related with customs. Customs issues vary by countries,
so customers need to contact local customs office for detailed information to avoid potential problem.
USA Delivery
Express from USA shipping : 3 ~4 Business Days
Korea to USA shipping : 6 ~ 8 Business Days
USPS and UPS shippings may delayed due to COVID-19.
Thank you for your patience and understanding.
Free shipping : 15 ~ 25 Business Days
If the stock is available,
delivery time will be as mentioned above.
Global Standard Delivery
(15 ~ 30 Business Days)
 - Canada
-US
Global Expedited Delivery
(5 ~ 7 Business Days)
 - Canada
-US
 List of countries with EXPEDITED Delivery only 
(5 ~ 7 Business Days)
- Albania
- Algeria
- Andorra
- Argentina
- Austria
- Azerbaijan
- Bahrain
- Bangladesh
- Belarus
- Belgium
- Bermuda
- Brazil
- Brunei Darussalam
- Bulgaria
- Cambodia
- Cayman Islands
- Chile
- Croatia
- Cuba
- Colombia
- Costa Rica
- Czech Republic
- Denmark
- Ecuador
- El Salvador
- Estonia
- Faeroe Islands
- Finland
- France
- Gibraltar
- Greece
- Greenland
-Hong Kong
- Hungary
- India
- Iran
- Iraq
- Ireland
- Israel
- Italy
- Jamaica
- Japan
- Jordan
- Kazakhstan
- Kiribati
- Kuwait
- Kyrgyzstan
- Laos (
LAO PEOPLE'S DEM REP)
- Latvia
- Lebanon
- Lithuania
- Luxembourg
- Macau
- Macedonia
- Martinique
- Mauritius
- Mexico
- Moldova
- Mongolia
- Montenegro
- Morocco
- Myanmar
- Netherlands
- Nepal
- New Caledonia
- New Zealand
- Norfolk Island
- Norway
- Oman
- Papua New Guinea
- Peru
- Poland
- Portugal
- Qatar
- Republic of the Union of Myanmar
- Romania
- Rwanda
- Saint Lucia
- Saint Kitts And Nevis
- Saint Vincent And The Grenadines
- San Marino
- Saudi Arabia
- Slovakia
- Slovenia
- Solomon Islands
- Spain
Sri Lanka
- Suriname
- Swaziland
- Sweden
- Switzerland
- Tanzania
- East Timor (Timor-Leste)
- Taiwan
- Tonga
- Turks And Caicos Islands
- Tuvalu
- United Arab Emirates
- Ukraine
- Uzbekistan
- Vanuatu
- British Virgin Islands
We are sorry for this matter,
and hope shopping to the country will be adjusted soon.
Thank you
Customer Reviews
so nice
I tried this product that I received as a free gift event and I bought this pack because the product was so good. I used this on my nose at first. And I could see that sebum in the nose was draining. I can feel my nose clean after washing off this product. I am very pleased and will continue to use this product in the future. But the only weakness of this product is smell. People who are sensitive to smell may not like it.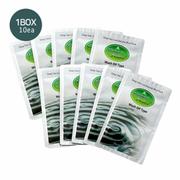 AWSOME!!
I really like this clay mask, it's up to its hype. I started using it all over the face and it doesn't dry it and leaves a very hydrating effect once you wash it away. Now I only focus on the areas I want to specifically treat, my T and U zone. I even apply it sometimes just on acne zits and it works great reducing a bit the inflammation. and after using this, my skin is very fresh. It's a sure repurchase for me !